Southern Miss Invitational: Golden Eagles drop home-opener in five set battle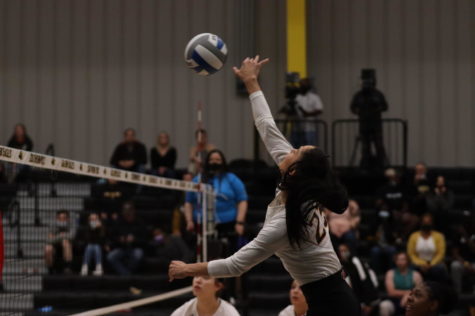 Southern Miss lost a five-set battle in their home opener against the Stephen F. Austin Lady Jacks Friday.
Despite the loss, the Golden Eagles reached new heights, including outside hitter Mia Wesley's career-high of 31 kills and 18 digs. Wesley is fourth in the nation in kills per set.
"We could have won. We were the better team. It was in our control. We should have managed more things on our side of the net," Wesley said.
Cara Atkinson had a blazing game with 15 kills, five digs, and a .423 percentage, and Kenzie Smith added 59 assists and 15 digs. The team had an overall .242 percentage.
The first set showed that the Lady Jacks came to play, as they went back and forth on streaks until the end of the set, where they went point for point. SFA took the set 33-31.
In the second set, the Golden Eagles started strong with a 7-3 lead, but SFA had an answer that gave them a lead to hold on for the remainder of the set.
"My hitting percentage wasn't great in the first two sets, so I need to work on that for the next game," Wesley said.
But the third set was a transitioning moment for the Golden Eagles, as Wesley came through with four consecutive serves to force an SFA timeout.
Atkinson kept the momentum going as Southern Miss blocked the attack and kept SFA trailing behind them to take the set 25-19.
The Golden Eagles set the tone in the fourth set again, starting 11-15 with Atkinson getting out on the blocks again. Southern Miss sent it to a fifth set with a 25-17 finish in the fourth.
SFA regained the momentum as they fought evenly with Southern Miss in the final set of the game, eventually winning 15-13.
"SFA is a good team, they won their conference a lot, and they are a disciplined team," Southern Miss Head Coach Jenny Hazelwood said. "We knew our percentages weren't as good, and our hitting wasn't good. But, when you are playing a good team, errors are not provided. You have to execute every set to succeed.
On the other hand, SFA's Leah Powell had 20 kills and 22 digs to lead the Lady Jacks, Jayden Flynn had 19 digs, and Isabella Ortiz had eight kills and 11 digs.
"We saw a lot of bright spots in the game. Mia Wesley is a go-to player, and Cara Atkinson is a great blocker. We have a chance to do good in this game. We have a lot of talent, and we are young. I think we are going to be special," Hazelwood said.
Leave a Comment
Donate to Southern Miss Student Media Center
Your donation will support the student journalists of University of Southern Mississipi. Your contribution will allow us to purchase equipment and cover our annual website hosting costs.