Southern Miss Volleyball splits home series with Troy
Game One:
The Golden Eagles started the weekend with a win in a five-set battle against the Troy Trojans Friday.
"It was a great back-and-forth match all night. We did well in the first, and Troy did well in the second. We had a stronger third and they had a stronger fourth" Head Coach Jenny Hazelwood said.
Ari Barksdale did her thing with eight kills for a .412 percentage joined by Cailin Demps with a statistically parallel performance Libero Megan Harris added 14 digs and Mia Wesley had 13 kills and eight digs. But the player of the game had to be Cara Atkinson, who had 14 kills, five digs, and a .522 percentage.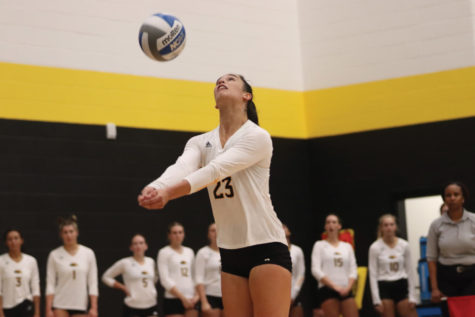 "I performed the best I could with attacking- it was one of my better strengths. I had a number of errors, but I think that's something when you go in and if you do not focus on blocking, it's something that can really mess you up. But I'll try to make up for with attacking. I thought I did a great job on that part," Atkinson said.
The first set was tightly contested, setting the tone for the rest of the game. The Golden Eagles came out victorious in the set after a serve from Aliah Giroux led to the deciding point at 25-23.
The Golden Eagles started rolling the second set, but Troy always had a response to the Golden Eagles. Troy rebounded for the lead and powered through an intense set to win 25-21.
Troy came out on a monster start, but the Golden Eagles shook back to contest the set and eventually took it 25-20 with an outburst on the attack from Atkinson.
The Trojans completely controlled the fourth set until Southern Miss again staged a comeback to fight for the set, but Troy pushed ahead to 25-20 to force a fifth set.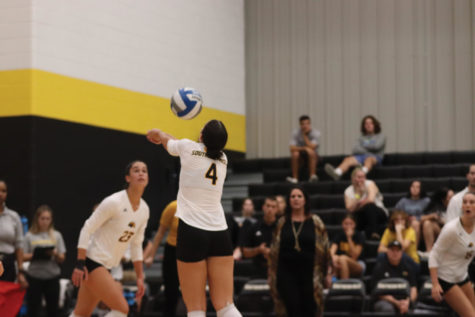 Southern Miss set the tone in overtime, but Troy followed closely behind in a nail-biting set. The game started to get too close for comfort, but the Golden Eagles came out on top in a 16-14 win.
"We kept a great mindset, even though at times things weren't going how we want them to go, I said, that's what a great volleyball team does," Hazelwood said.
"I think that we have the competence on our team where we feel like we know that we should win, and sometimes it kind of bites us in the butt where we get a little bit too lackluster, and we think that, 'oh we got this', but when it's go time, we know that it's time to turn it on", Atkinson said. "That's what happened."
Game Two
Troy commanded the second day of the matchup, sweeping Southern Miss 3-0.
"I think we've got to stick together as a team and as a staff. We're going to come in Monday and it's a new week, and we've got to get better," Assistant Coach Lexie Maclean said.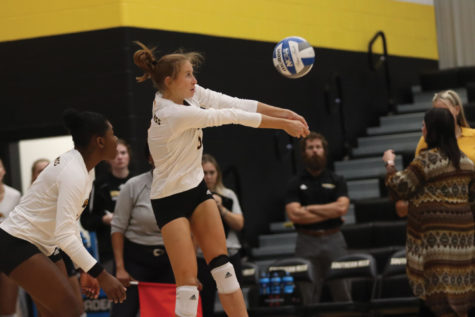 The Golden Eagles matched the intensity of the first day by competing throughout the set, but the Trojans pushed ahead to win 26-24.
From there, Southern Miss slumped to a slow start of the second set that put them at an early seven-point deficit. The Golden Eagles started to find their rhythm, but Troy's consistent defensive effort prevented a comeback and secured their victory in the set at 25-22.
Southern Miss had a chance to redeem themselves in the third set coming out on a fast start, but Troy responded and regained control to take the set comfortably 25-17.
"We need to learn and get better at following a game plan. It's easy to resort back to old habits and how you want to do things," Maclean said. "We do our best to defend our game plan, passing the ball high, early angles in service, so when the game gets crazy and hectic, we have to stick to our system."
Southern Miss is now 10-6 and 2-2 in the Sun Belt Conference. The Golden Eagles hit the road for a two-game stand against the Louisiana-Monroe Warhawks starting Friday, Oct. 7.
Leave a Comment
Donate to Southern Miss Student Media Center
Your donation will support the student journalists of University of Southern Mississipi. Your contribution will allow us to purchase equipment and cover our annual website hosting costs.