Ladner, Golden Eagles pick up Sun Belt Conference Honors
After leading the biggest turnaround in program history, Southern Miss Men's Basketball Head Coach Jay Ladner won the Joe Gottfried Sun Belt Conference Coach of the Year award.
Following a 7-26 2021-2022 campaign with only one win in conference play, Ladner's Golden Eagles exploded for a 25-6 record and won the regular season crown in the program's first year in the Sun Belt Conference.
"If you would have told me last year that I would be the Coach of the Year this particular day, I would have said it would have probably been for coaching in high school," Ladner said. "I was very close to having to go find a high school job. It's just been an incredible turnaround and I have to give all the credit to our staff and players for the turnaround.
This year's championship marks the first conference title since 2001 and the first outright title since winning the Metro Conference in 1991.
Ladner said that the accomplishment of the regular season title meant more for him and the team, but appreciated what the award reflects of the team's accomplishments.
"I am humbled by the award and I am humbled by the fact that it is voted by my peers inside the league," Ladner said. "I'm very excited, but I've also been around long enough to give credit where credit's due. Without our staff, without our players, you don't get a coach of the year award, so I accept that award, I'm fired up about it, but I accept it on the behalf of our staff and our players."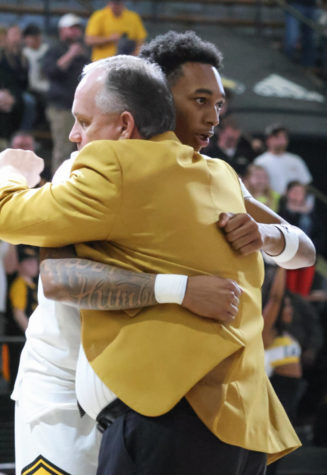 Guard Austin Crowley said Ladner deserved the award and the recognition that he hasn't gotten.
"Coach Ladner doesn't really get the recognition that he deserves. He came into the program when it was rebuilding and coming off of sanctions, and I think this was really the first year where he was getting the guys he wants to build the system he wants and bringing in the coaches has," Crowley said. "To see Coach [Ladner] go through what he's been going through the last couple of years and to see him always smiling, it's been great. This is what he wants and I'm glad I was on the team to be able to give it to him."
Crowley was one of Ladner's additions from an aggressive offseason in the transfer portal, which paid off with two winning conference awards.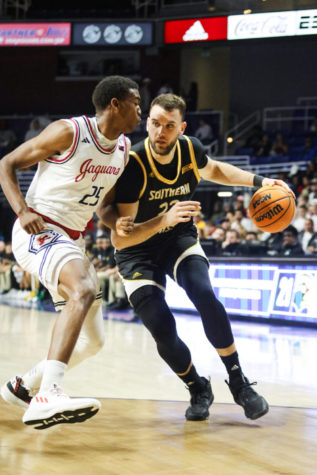 Crowley took home the bulk of the awards, winning the Sun Belt Newcomer of the Year after joining from Ole Miss. Crowley also made first-team All-Sun Belt team after averaging 16.2 points per game.
"He has been an incredible addition to our program. I'm so happy for him, " Ladner said. "He's got a smile on his face every day, he works hard, [and] he's so enjoyable to be around…he's an outstanding young man that comes from an outstanding family."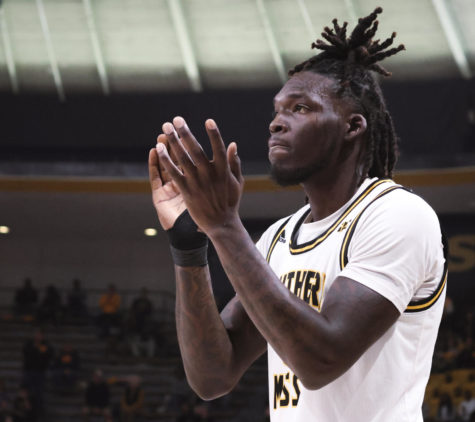 Felipe Haase was the other decorated newcomer, joining Crowley on the All-Sun Belt team. He made second-team in his lone season at USM after transferring in from Mercer. Haase averaged 15.2 points per game while getting an average of six rebounds per game. Both players shot 47% from the field and averaged over 35% from downtown.
Ladner noted that like Crowley, Haase could have made his case for Sun Belt Newcomer of the Year.
One player who stayed the course throughout all the turmoil Southern Miss has endured is Deandre Pinckney.
In his first two years in Hattiesburg, the Golden Eagles went 8-17 and 7-26. In his third and final year at USM, though, Pinckney made third-team All-Sun Belt for his efforts on the team. Nicknamed "Mr. Efficient," Pinckney averaged 13.2 points per game and 6.7 rebounds per game.
"If your best players on your team are also your hardest workers, your team has a chance," Ladner said. "Those are the guys. They work hard and come in before practice and after practice extremely dedicated."
The Golden Eagles hold the top seed in the Sun Belt Conference Tournament this weekend in Pensacola, Fla. Ladner's squad looks to add another milestone this season, as Southern Miss seeks their first conference tournament victory in school history.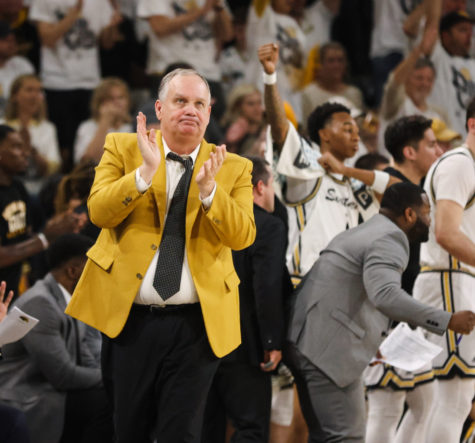 The Golden Eagles secured a double-bye, so their first game will be Saturday at the Pensacola Bay Center at 11:30 a.m. against the winner of App State versus South Alabama.
Leave a Comment
Your donation will support the student journalists of University of Southern Mississipi. Your contribution will allow us to purchase equipment and cover our annual website hosting costs.