Enrollment declines: Paul's administration has a plan
Undergraduate enrollment at USM has been declining steadily for years. It is the result of years-long national trends including population decline, economic issues, and the COVID-19 pandemic. Despite the circumstances, USM President Joe Paul and the university's administration are optimistic in their ability to overcome this issue.  
According to the Office of Institutional Research, total undergraduate enrollment has been dropping for almost a decade. In fall 2012, the earliest numbers found, there were 13,658 undergraduates enrolled. That number has dropped steadily every year, most years by the hundreds.  
As of fall 2022, there were10,258 undergraduate students enrolled at Southern Miss. The vast majority of those students, 7,775, were enrolled at the Hattiesburg campus, while Gulf Park sits at 732, down from 1,361 in 2018. There were 1,751 registered students taking fully online classes. 
The biggest loss was between fall of 2012 and fall of 2013, where undergraduate enrollment plummeted by 1,183. The second-largest was between fall of 2020 and fall of 2021, with a difference of 758.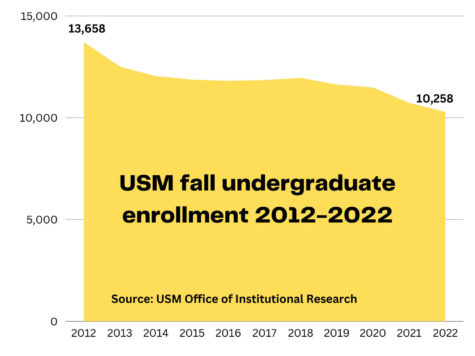 The decline is caused by a number of factors. According to BestColleges, the three main issues are declining birth rates, the rising cost of college, and the impact of the pandemic.  
First, birth rates have been declining nationally since the economic recessions in the 1990s and in 2008. Even the birth rates in Mississippi have declined, though they remain higher than the national average – 12.3% in Mississippi compared to 11.97% nationally.  
Second, college has only gotten more expensive. The average tuition and fees at public four-year schools in Mississippi is $8,604 for in-state students and $19,402 for out-of-state students. That does not even include the various other expenses such as textbooks and transportation.  
The pandemic has only made this trend worse. Many students chose to delay or forgo attending college due to format changes, fear of contracting COVID-19, and lack of funding. Nationally, undergraduate enrollment fell by 1.2 million people.  
All of these factors combined have created an environment where there are less students enrolling and greater competition between colleges for those that remain. 
For students already in college, lower enrollment means less state funding for the university, which means less money for important services and programs. If desperate, schools could start to raise costs to offset the losses.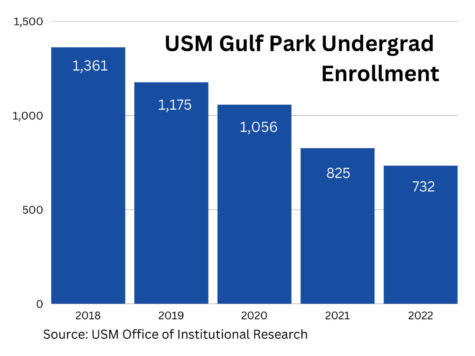 Sitting down with SM2, Paul expressed optimism about the situation. He stated that enrollment growth as his top priority and outlined his plans to make that a reality. 
"We've got to be more creative and create new strategies to be able to…grow our enrollment," he said. "The University of Southern Mississippi for somebody not to choose to come to school here." 
Part of Paul's plan is centered around a personal approach to better marketing the school to prospective students. Last fall, he spoke to more than 2,000 students at 13 south Mississippi high schools to spread the word about Southern Miss. USM also has special enrollment relationships with multiple community colleges in Mississippi to make it easier for students to transfer.  
The administration is also raising money to improve the university. USM launched a Capital Campaign, aiming to raise $150 million in private donations for scholarships and other programs for the school.  
There are also new administrative positions such as Senior Associate Provost for DEI meant to improve quality of life at Southern Miss. Among the new hires is Dr. Randall Langston, Senior Associate Vice President for Enrollment Management. 
Despite the odds, Langston was also positive. "We've been working very hard to show students and demonstrate to families that this is a really great place to be," he said. 
Leave a Comment
Your donation will support the student journalists of University of Southern Mississipi. Your contribution will allow us to purchase equipment and cover our annual website hosting costs.