Tailgaters leave behind a mess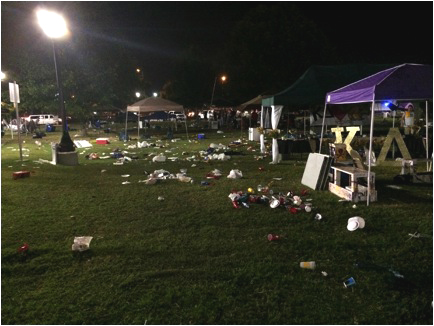 More than 36,000 people filled stadium seats Saturday night to watch the Golden Eagles take on Mississippi State. That number broke a university record, as announced during the second quarter. The university happily welcomed these visitors but some did not leave the campus the way they found it.
After the game, the front of campus was buried under piles of aluminum cans and garbage. The massive disarray appeared to be an act of vandalism, but security officer Marvin Robinson was on the scene all night. He indicated that it was an act of negligence from tailgaters.
"What happened was that we had a lot of people from outside the university that came and were not respectful," Robinson said. "I have never seen it this bad." He said that it was not State fans or students that were to blame but locals.
"State fans were totally cooperative. Most of them were in that area over there," he said, pointing toward a clean area by Honor House. "The students were organized and picking things up. It was mostly local people."
The mess was very noticeable to attendants of the game. A group of three Southern Miss graduates said the problem was a lack of trash cans.
"When there aren't enough trash cans, people want to throw their trash on the ground," said one alum, who opted to remain anonymous. "Go anywhere else and there is a trash can every few feet. They are constantly being emptied so that they don't overflow. It's a process."
USM distributed one trash can to each tent the day before the game, but the alumni asserted that they were not big enough to accommodate the large number of tailgaters.
"We had almost 150 people in our tent and only one trash can," a second alum said.
The two commenting graduates did not blame the staff working the event. "I think we have hard workers here and they are doing the best they can. It's a lot for them to do." Their only suggestion was to place more trash cans in the area.
Tailgaters could also add a box of Hefty bags to their game day checklists to help with the mess. Locals could bring a supply of trash bags to prevent this problem from reoccurring. It is important to be mindful of the university and respect the campus that thousands of students call home.
Tailgaters abandoning their mess is a grave injustice to the recent improvements to the face of campus, like the transformation of Lake Byron and restoration of the Ogletree House.
For future events, I hope the public will be more motivated to pick up after themselves so we can keep the campus we love clean and beautiful.
Donate to Southern Miss Student Media Center
Your donation will support the student journalists of University of Southern Mississipi. Your contribution will allow us to purchase equipment and cover our annual website hosting costs.