Mississippi-bred band returns home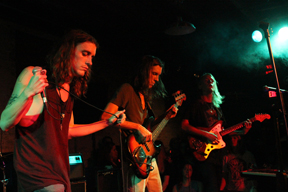 On Saturday night, The Weeks returned to Hattiesburg on the third night of their home-state tour to play one of the most popular music venues in town, The Thirsty Hippo.
This Jackson-born band started their Mississippi tour on Thursday, Sept. 17, in Ocean Springs and will end it on Sept. 26 in Meridian. They are one of the better-known bands to have come out of Mississippi recently, and The Thirsty Hippo was packed with fans as a result.
Mallory Robbins, a freshman exercise science major at The University of Southern Mississippi, hails from the band's hometown, Jackson. She was in the crowd Saturday to see them.
"I've been a fan for three years, and this was my fourth show," Robbins said. "I was beyond excited when I heard they were coming to town. Their shows have been a tradition for me and my friend back home for so long. Seeing them made me feel a little less homesick."
A significant portion of the band's fanbase shares this attitude. Mississippi pride is at the heart of the band's image. The name of the tour itself is "It's Like Comin' Home." Their set opener Saturday night was one of their biggest hits, "Mississippi Rain," and they continued to sing of their homeland with wistful tunes such as "Slave to the South."
Lead singer Cyle Barnes sports a tattoo of the state's outline on his arm, but his love for his home clearly runs deeper than that.
"We are so happy to be in the state of Mississippi," Barnes said. "The people are beautiful, the state itself is beautiful and it feels like being home. Because it is our home, and we love you all very much."
USM junior speech pathology major Kaleigh White raved about the show.
"Last night was my third time to see them, and it was the most fun I've had at one of their shows. You can definitely tell they love what they do, especially when they're doing a show in their home state."  – White
The show was high-energy from start to finish. The venue allows the crowd to be right up next to the stage, which encouraged the band and the fans to interact with each other. The lead singer and drummer are twins, and the chemistry between the two was extremely visible. The whole band played without reservation, like they truly were coming home.
On Mississippi's border, the signs read, "Birthplace of America's Music." With a soulful, southern rock sound with influences from the greats such as Lynyrd Skynyrd and the Killers, The Weeks have developed a sound that embodies modern-day Mississippi.
White said of the artists, "They're a fantastic band to represent the state, and I hope that their popularity continues to grow nationally."
Donate to Southern Miss Student Media Center
Your donation will support the student journalists of University of Southern Mississipi. Your contribution will allow us to purchase equipment and cover our annual website hosting costs.