An Inside Look at Serengeti Springs, Hattiesburg's New Waterpark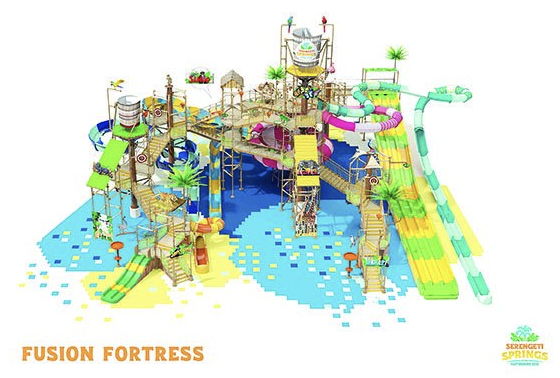 Hattiesburg Zoo's new water park, Serengeti Springs, is expected to open in summer 2023. The Hattiesburg Convention Commission has been planning the park for more than two years, and it will span over 3.5 acres of Kamper Park as an expansion of the zoo's Africa section.  
The water park, funded by the Hattiesburg Convention Commission, will cost an estimated $10.5 million from earned revenue and 2% restaurant tax.  
Many zoos run off government subsidies to operate, so they are always looking for new ways to attract guests and bring in more revenue to support the care of the animals.  
"The Hattiesburg Zoo has operated without a governmental subsidy since May of 2017," said Rick Taylor, executive director of the Hattiesburg Convention Commission. "As such, we must find attractive ways to continue the growth of the zoo and how to fund that growth. We believe a waterpark is a part of that plan for the future." 
The construction of Serengeti Springs has officially broken ground, but still has a long way to go. In fact, Serengeti Springs will not be complete totally until two to four years after the grand opening. 
The build has been split into two phases. Phase one will include a 150,000-gallon lazy river, swim-up bar and Fusion Fortress — a water play structure standing at 62 feet high with "some straight slides and several with twists and turns," according to a press release from the Hattiesburg Convention Commission.  
Serengeti Springs will also include plenty of places to lounge while diving into a meal from various food trucks around the park. In addition, it will be complete with lockers, changing rooms and showers.  
The large bucket will be the tallest structure inside Fusion Fortress and will dump 800 gallons of water onto guests at random. This water will then be captured, treated and recycled for more visitors to enjoy.  
Serengeti Springs will operate from Memorial Day through Labor Day and is designed for people of all ages to enjoy in the summer months, including those disabled. Serengeti Springs will also be accessible to most people, except in places where climbing stairs is necessary.  
"I know the kids will love the Fusion Fortress," Taylor said, "but I also know the adults who bring them to the Zoo will love the relaxation of the Lazy River." 
The waterpark will be "…all in the design to highlight the animals and environment of Africa," according to the press release, and will include animal presentations alongside the tropical animals that will live at Serengeti Springs. 
Phase two will complete the construction of Serengeti Springs by adding 4 additional slides and is expected to begin between two to four years following the grand opening.  
"Phase two will not impact the ongoing operations of Serengeti Springs, just as this first phase will not impact the operations of the zoo," said Taylor. There will always be a way to have fun at either the Hattiesburg Zoo or Serengeti Springs year-round, even during the construction of phase two. 
Leave a Comment
Donate to Southern Miss Student Media Center
Your donation will support the student journalists of University of Southern Mississipi. Your contribution will allow us to purchase equipment and cover our annual website hosting costs.