2016 continues to claim influential icons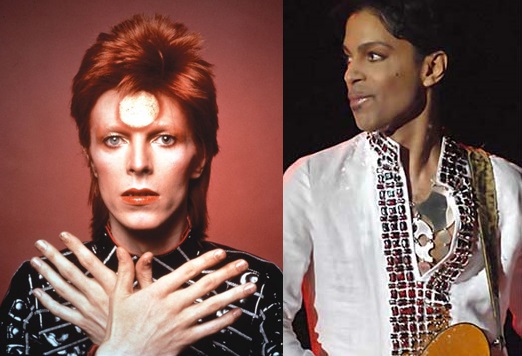 Since 2016 began, film and music enthusiasts everywhere have suffered through death after death of majorly influential icons.
First to pass was rock music legend David Bowie, who inspired several generations of "misfits and weirdos," as longtime music journalist and author Alan Light reported in The Hollywood Reporter.
"Bowie's work consistently returned to common themes: the sense of alienation, of being an outsider," Light wrote. "Bowie's vision was so prescient that, at times, it really did seem like he beamed down from the future."
Although Bowie was best known for his space-alien persona Ziggy Stardust, his music and personas fluctuated constantly and kept a legion of inspired fans enraptured by his many various identities.
Furthermore, Bowie was an activist who publicly declared his bisexuality long before such an announcement was widely tolerated and was an advocate for African-American artists.
"This was the David Bowie who set a course for musicians, designers, actors, politicians and fans around the world," Light wrote. "He was the original performer in a state of constant reinvention, paving the way for Prince, Madonna and Lady Gaga."
Cancer claimed another life just a few days later when English actor and director Alan Rickman passed at the age of 69.
Trained at the Royal Academy of Dramatic Art in London and a member of the Royal Shakespeare Company, Rickman was a gifted actor best remembered for his role as the villainous Severus Snape in the "Harry Potter" films.
"There are no words to express how shocked and devastated I am to hear of Alan Rickman's death," tweeted J.K. Rowling, author of the "Harry Potter" series. "He was a magnificent actor and a wonderful man."
Fans were especially touched by "Harry Potter" star Daniel Radcliffe's response to Rickman's death.
"People create perceptions of actors based on the parts they played so it might surprise some people to learn that contrary to some of the sterner (or downright scary) characters he played, Alan was extremely kind, generous, self- deprecating and funny," Radcliffe wrote on his Google Plus page. "As an actor he was one of the first of the adults on Potter to treat me like a peer rather than a child. Working with him at such a formative age was incredibly important and I will carry the lessons he taught me for the rest of my life and career. Film sets and theatre stages are all far poorer for the loss of this great actor and man."
When American music legend Prince was found dead last week at his home in Minneapolis, Minnesota, the world reeled from the loss of yet another influential artist.
Frequently compared to Michael Jackson and known for his electric stage presence, Prince won several notable awards throughout his life and left his mark as an innovative musician, record producer, actor and film director.
In a National Public Radio interview following his death, Prince's first manager Owen Husney remembered the eccentric icon as "very focused, very directed and highly intelligent."
"He never wanted to be pigeonholed into one specific genre of music, because he always felt that he was capable [of more]," Husney said. "And he just wasn't mimicking his influences — he was combining their sounds. He was making a whole new sound. He had the rare ability to not just mimic the sound of an artist that influenced him but to take it another level."
Prince was often praised for choosing to "march to the beat of his own drum," as Adam Young, a Minnesota-based singer, songwriter, multi-instrumentalist and creator of Owl City, wrote in an opinion piece for CNN.
"Where many embraced conformity, Prince embraced individuality," Young said. "Though it's strange to suddenly realize the world has lost yet another creative icon, a virtuoso instrumentalist and an electrifying performer, the thing I take with me is the realization that we are all human beings with numbered days and none of us can decide when our time is up.
"While the universe of art and music is a place without boundaries — where man is limited only by his own imagination – each of us has a finite amount of time on this planet. The ways in which we decide to play out that time are decisions only we can make."
---
Donate to Southern Miss Student Media Center
Your donation will support the student journalists of University of Southern Mississipi. Your contribution will allow us to purchase equipment and cover our annual website hosting costs.