Behind the feathered suit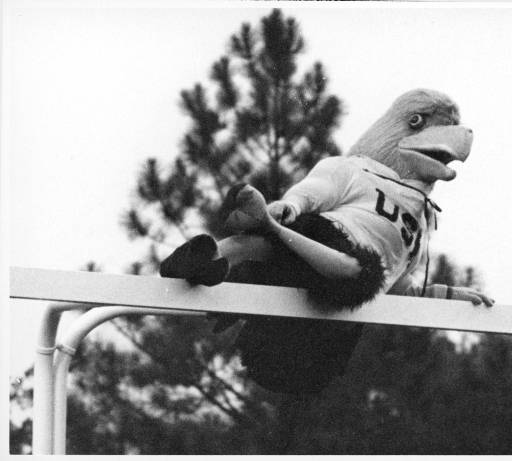 A constant presence at Southern Miss football games is the Golden Eagle mascot, Seymour.
Jamie Arrington grew up coming to USM football games and loved the university so much that he knew he had to leave a legacy behind. He was not suiting up on game days in a football uniform, but in a gold-feathered Seymour costume. Arrington served as USM's mascot from 1999 until 2002.
Arrington loved being on the field for the football games the most.
"Everything that a fan wants to do, I could do, like high fiving players after a touchdown," Arrington said. "I also loved taunting the opposing teams."
There was only one thing Arrington did not like about being the mascot at USM.
"Being inside that suit in South Mississippi was something I will never forget," Arrington said. "The temperature of my first game in 1999 was about 110 degrees."
Arrington's game day routine began with the Eagle Walk and then he would start plotting out things to do to keep the crowd entertained. He believes the core fan base in Hattiesburg has gotten better since he was mascot.
"Everything from tailgating to the black and gold street signs have improved the overall game day experience and atmosphere in Hattiesburg," Arrington said.
The duties of the mascot have changed over the years. There are more rules and restrictions on what Seymour can and cannot do, due to liabilities.
"After every touchdown we used to run into the end zone and high five the players, but that would never be allowed today," Arrington said.
He also made many lifelong friends throughout his four-year journey as Seymour. Arrington was close with the Alabama, Tennessee, Mississippi State and Delaware mascots.
In his second and third year of being Seymour, USM qualified to compete at the UCA mascot national championships in Orlando, Florida, finishing in tenth and seventh place.
In 2002, USM made the Capital-One All-American team with only two other teams, Alabama and Tennessee. Arrington believes those accomplishments were important in establishing a tradition for Southern Miss.
"Being mascot was a great experience where I got to meet a lot of people and had a lot of fun. It takes a lot of commitment, but the experiences you get from it are priceless." – Arrington
Arrington has connections with tons of Seymours, and even knows the current Seymour, Brad Penny.
Penny is a second-generation Seymour at USM. His father, James, wore the mascot suit from 1989-1993. Penny is one of the five current mascots at Southern Miss and has been a Seymour since 2012.
With three years of mascot duties under his belt, Penny sees himself as a leader for the other four Seymours.
"We actually have a boot camp for them, but most of it is just them learning by watching us during the games," Penny said. "They are going to make mistakes, but when you're in the suit there isn't much that will make you look bad."
Penny grew up watching USM football and loves being on the field to enjoy the atmosphere on game days.
From Arrington's time as mascot to now, not much has changed about the temperature inside those hot-feathered suits.
"It's about 40 degrees hotter inside the suit," Penny said. "So August and early September can be kind of rough, but I've gotten used to it."
Mascots of both teams usually share the same locker room, so they are able to meet each other before the game. They sometimes even plan a dance battle for on-the-field to entertain the crowd during a timeout or commercial break.
Penny has also experienced many different stadiums and fans throughout his journey as Seymour. He has enjoyed seeing all the different college stadiums, but Nebraska was by far his favorite.
"Their stadium seats 90,000 people so it was amazing and loud," Penny said. "They have the nicest fan base, and I had more Nebraska fans wanting to take pictures with me than our own fans."
He encourages anyone who has passion for USM and is energetic to give it a shot, but it is tiring and a mascot must be committed. Penny hopes to continue the Seymour tradition with his own family one day.
"I don't know what I would do if I wasn't Seymour," Penny said. "It's just a lot of fun."
Penny is anticipating graduation, where he will walk across the stage wearing the feet from the Seymour costume, a Southern Miss tradition.
Donate to Southern Miss Student Media Center
Your donation will support the student journalists of University of Southern Mississipi. Your contribution will allow us to purchase equipment and cover our annual website hosting costs.