Southern Miss raises awareness on Human Trafficking Month with summit
In order to shine a spotlight on the crime, the University of Southern Mississippi Center for Human Trafficking Research and Training with the collaboration of state agencies hosted the Mississippi Businesses Against Trafficking (MBAT) summit Tuesday.  
The summit took place in the Thad Cochran Center along with the opening film, Sextortion: The Hidden Epidemic took place in Joe Paul Theater. 
Sex trafficking is the crime of forcing or coercing an individual to exchange sex for something of value. 
The Mississippi Businesses Against Trafficking is an initiative by the Mississippi Secretary of State's Office and Secretary Michael Watson to bring awareness to human trafficking and empower all Mississippi businesses to fight against human trafficking.  
Tamara Hurst, associate professor from the School of Social Work, co-director of the Center for Human Trafficking, Research and Training, and Kimberly Hogan, assistant professor from the School of Social Work, co-director of the Center for Human Trafficking, Research and Training, talked to the Hattiesburg community, faculty, staff and students to learn and discuss issues involving human trafficking. Along with these topics, the summit also discussed the signs of someone being trafficked and steps to prevent the issue.  
The summit hosted two panel discussions with a total of seven panelists to talk with community members to answer questions.  
Ashlee Lucas, a Statewide Human Trafficking Coordinator of the Mississippi Bureau of Investigation said the purpose of the summit is to engage all business community members to identify human trafficking within their business and ways they can address the issue.  
She said that the community needs to be the eyes and ears to protect our young people. "They are the ones that are going to know the kid and know that something different is happening with that child or that adult and so they're going to be the ones that need to report that so that we can investigate it." said Lucas. 
Last year, the MBI trained 1,700 people such as law enforcement, social workers, teachers, school resource officers, community and faith base members. 
Hogan's passion for social work began when she was a high school teacher. She talks more in-depth about her movement against human trafficking on episode 66 of an Apple podcast called Emancipation Nation.  Hogan noticed that one of her students in her class was groomed and later learned the student was taken by a trafficker. The more Hogan learned about human trafficking and understand as an educator, the more people did not know anything about human trafficking.  
Hogan says there are two types of human trafficking which are sex and labor trafficking which both operate under force, fraud and coercion.    
"If you see individuals with multiple cell phones, multiple runaway histories, drug addiction, truancy issues, involvement in the child welfare, juvenile justice system, those are some indicators that, you know, something might be going on or they're at higher vulnerability to being trafficked," said Hogan.  
Hogan believes it is important for people to reach out to the proper authorities as well as use proper protocol.  
"We need to make sure that companies, nonprofits and governments really establish procedures and protocols when they come across somebody, they're screening properly and then sending it to the proper authority," Hogan said.  
"Another thing we can do is women is look out for one another. Pay attention to what is going on with our sisters and our daughters and our neighbors and if we notice any of those signs then we need to engage in conversation with that person and find out what's going on and help them connect to resources" Lucas said. 
The National Human Trafficking hotline number is 888-373-7888. If you are a victim or suspect of trafficking please reach out to the Mississippi Bureau of Investigation. All resources are listed and located at usm.edu/CHRT.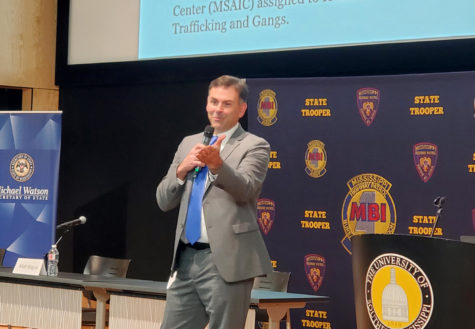 Leave a Comment
Donate to Southern Miss Student Media Center
Your donation will support the student journalists of University of Southern Mississipi. Your contribution will allow us to purchase equipment and cover our annual website hosting costs.