Hall and Gregg reunited: From cup ball to climbing the coaching ranks
Some things in life seem destined as if they are already in the stars. For Southern Miss Head Coach Will Hall and Offensive Coordinator Sam Gregg, their relationship is intertwined with their family's football history.
Hall and Gregg are natives of Armory, Mississippi. If you have never visited Amory, Mississippi, it is a small town with over 6,000 people, so you can see how it is hard not to know each other.
"I met Sam around eight, and he was the biggest kid in the deal. We played cup basketball in the hallways and football out in the yard," Hall said.
"During the games as kids, we would get one of those old Coca-Cola red cups and play. We pretty much did that until we were playing sports," Gregg said.
This instance was the start of a lifelong friendship on and off the field.
Both being like father like son, they continued to follow similar paths in their fathers' footsteps.
Bobby Hall is one of the most storied head coaches in Mississippi, with four state titles and over 300 wins in his coaching career.
On the other hand, it's unique to come under your dad's coaching tree and have one of your best friends since "cup ball" coach on every level as you, working your way up the ranks from Division II to Division I ball.
Hall's father, Bobby, led the Panthers to three state titles (1994, 1995, 1998) as Will was the starting quarterback of the 98′ squad. It was essentially unavoidable not to know who the Halls were.
For how Will met Sam, it was the classic coach's kids' mashup. In the late 80s, Sam and Will encountered each other after Gregg's father, Leroy accepted the assistant football coaching gig under Bobby Hall.
Leroy Gregg went on to be a part of the two-state title appearances for Amory while also coaching the women's basketball squad.
After two unsuccessful title runs, Coach Hall would leave Amory but returned in 1993 to complete the unfinished business as Leroy and Bobby achieved the 3A title the following year.
A year older than Will Hall, Gregg was on the back-to-back title teams at right guard protecting the front.
From trading cup basketball in for a football to a drawing board and Will's classic sweater vest, the two have been with each other nearly every step of the way.
Coach Hall crunches the numbers on the amount of plays ran today and gave high praise to OL Coach Sam Gregg,

"We went 96 plays today. We would have had no chance at this last year. We are getting more work done. The overall health and well being of the program has been fixed." pic.twitter.com/NupAOh31HG

— AustinL (@austinyuknow) August 7, 2022
Sam and Will first reconnected at the Division II level in Bolivar, Missouri at Southwest Baptist University (2005-2006) from then on to Arkansas-Monticello (2007), and on a run at West Alabama and West Georgia from 2008-2017.
The two won three league titles and earned a No. 1 national ranking in West Georgia in 2015. Now, five years apart, the two are reunited in South Mississippi for their thirteenth year together.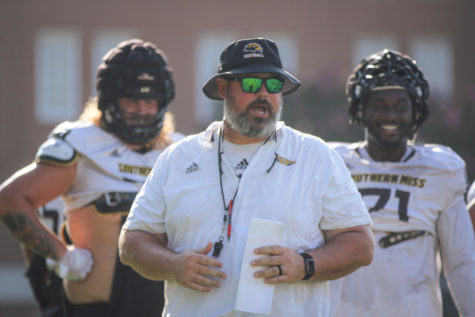 "I know what I'm getting, and I don't have to wonder what's going to happen. We've been together so long I know what he is thinking and what to do to get what he wants; it's comforting," Gregg said.
"He's just a loyal dude. He understands the number one job of an assistant coach is to make the head coach's job easier. He does that every day. I thank the good Lord he's with us, " Hall said.
From mini hoops in grade school in the hallways before games to backyard hoops, the two coaches have constantly been battling each other that being on the same team makes things come full circle.
"We would always play basketball. I'd play bully ball in those days, blocking his shot and backing him down under the rim. One day we were playing, I won two-three-four in a row, and he kept nagging and getting upset. I was ready to go in, but he wouldn't let me. There was this puddle of water outside that day, and I told him if I won, he'd have to drink that water," Gregg said. "I beat him for a couple more rounds, and he finally won a game, and I had to drink the water. He never gave up that day. It just shows the competitor he is. He's always been that way he gets after it. I'd say he got me tired that day till he won, " Gregg said.
Now lining up on the sideline together on the Division I level, the tandem looks to take the Sun Belt Conference by storm as they have done once before on the national scale at Division II.
"Will is a Mississippi boy through and through. He eats, sleeps, and drinks football," Bobby Hall said in Rick Cleveland's article Mississippi Today: Mississippi Boy Through and Through."Sam is a great coach and great teacher. We both love football, and we're both junkies," Hall said.
The Golden Eagles will play Liberty on Sept. 3rd to start the season, where Gregg spent the past three seasons.
"We are going to play a team that expects to win. It's going to be a great challenge for us. Liberty is going to play hard. I'm really looking forward to playing them, but I'm excited to see what our guys have learned over the past couple of months, " Gregg said.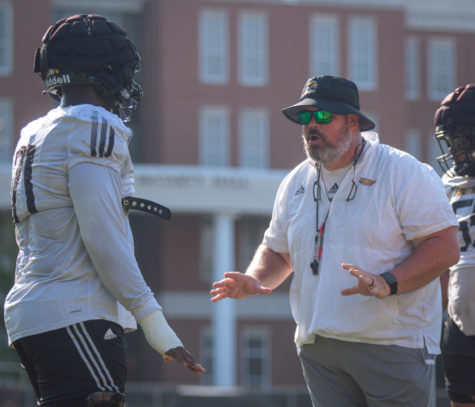 Leave a Comment
Your donation will support the student journalists of University of Southern Mississipi. Your contribution will allow us to purchase equipment and cover our annual website hosting costs.