Southern Miss sweeps Liberty to open 2023 campaign
HATTIESBURG, Ms – Southern Miss baseball swept the Liberty Flames in Pete Taylor Park to open the 2023 campaign. Here is a recap of the weekend:
GAME 1
Southern Miss beat Liberty 3-0 in the first game of the weekend series behind a stellar performance from the pitching staff. The Golden Eagles held the Flames to just one hit through all nine innings.
"Hats off to our pitching staff. Tanner Hall, Tyler Martin, and Justin Storm combining for a shut out tonight." Southern Miss head coach Scott Berry said.
Coming into this season, there were many questions surrounding the pitching staff of Southern Miss. Tonight, they showed that the more experienced players and pitchers are going to give them much confidence on Fridays in the future.
Hall got the start tonight for Southern Miss and pitched a masterpiece in the five innings he pitched. Halls stat line this evening: 5.0 IP, 1 H, 2 BB, 5 K, on 72 TP. The one hit he allowed was a little blooper to the mound, which bounced over his head.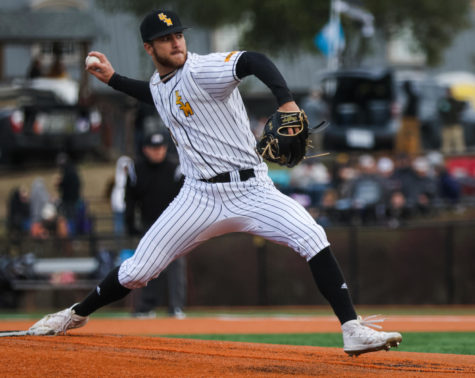 "Definitely had the jitters going a little bit, that's part of it. But overall, we were very excited, and I was ready to go." Hall said.
Hall walked the first batter he faced and played lights out after that. After Hall, Nebraska transfer Tyler Martin came in for Southern Miss and pitched a crucial three innings that kept Liberty off the board.
"I think the biggest thing was Tyler Martin's three innings in relief. That really helped us get Storm in, and we were able to scratch in for three runs." Berry said.
Martin's final stat line: 3.0 IP, 0 H, 3 K, on 35 TP. After Martin, Storm closed it out for Southern Miss and fanned two in the final inning.
On the offensive side, Southern Miss struggled a lot to get things going, and when they had opportunities to open things up, they squandered them. The Golden Eagles had the bases loaded three separate times, and all three times, Southern Miss would strand the bases with them loaded. The three through six holes accounted for 12 of the 16 strikeouts, which is a bit concerning for USM fans. Not to mention the 13 runners on bases the Eagles stranded.
"Yeah it wasn't pretty at all, we are going to have to improve on that [strikeouts.] That's the meat and potatoes of your order, and those guys are supposed to produce, and they will. You gotta give hats off to their pitchers too." Berry said. "With 27 outs, you must make them quality outs. You going to make out in a game, but they have to be quality ones. Tonight, we gave to many out up, that weren't quality enough."
Southern Miss fans got a quick first-hand view of the new piece in the lineup that USM added in the transfer portal in Matthew Etzel. Etzel went 2-5, with a double and single RBI to give Southern Miss a 1-0 lead in the bottom of the third. The hit that he turned into a double displayed his speed.
Another player who was feeling it tonight was catcher Blake Johnson. Johnson would go three for three at the plate. Including a 373-foot home run over the left field wall in the bottom of the fourth.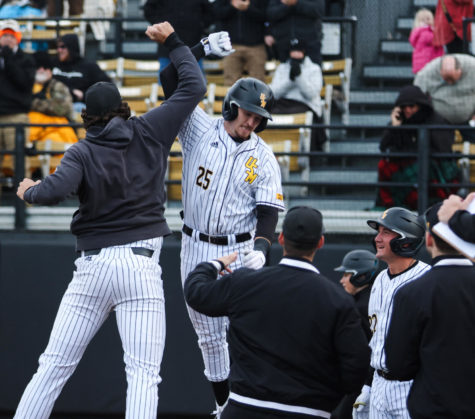 "The guys who were hitting in front of me, they told me what was going on…So that was a big thing, getting some word from the guys in front of me to know what their starter was working with." Johnson said.
"They told me it hit the fence, which I'll take it. You only have to hit it as far as the fence." Johnson said about his home run.
The night's final run was a fielder's choice RBI by Christopher Sargent in the bottom of the fifth to give Southern Miss a 3-0 lead.
All in all, not a perfect game, but a win is a win.
Game 2
Southern Miss rallied from behind to beat Liberty 2-1 to clinch the opening weekend series.
"Hard fought win. Could have gone either way as you saw. Really proud of our guys and how they held the game there. They have our offense a chance to get back in the seventh." Southern Miss head coach Scott Berry said.
Matthew Adams started on the mound for the Golden Eagles in his first weekend starting role. Adams helped Southern Miss contain Liberty's strong lineup by only giving up one hit through three innings.
In the fourth inning, Adams walked Camden Troyer and immediately advanced him to second after an E-1. Three Hillier would bat Troyer in with an RBI single to give Liberty a 1-0 lead.
Other than that, Adams was solid on the mound for the Golden Eagles. His final line: 5 IP, 3 H, 1 R (unearned), 1 BB, and 7 Ks.
"Adams, I thought was really good. You really got to give him a lot of credit." Berry said. "Matt covering those five innings and keeping it to a one run game."
The game's story, however, was freshman debut, Kros Sivley. Sivley, who had never thrown a colligate pitch in a game, dialed four scoreless innings.
"I did, I really did." Sivley said when asked whether he surprised himself in his outing. "I felt like I was going to go maybe two. Every time I went into the dugout, he [Coach Ostrander] asked if I felt good, and I would say: yes, I feel amazing."
Sivley's final line: 4.0 IP, 3 H, 0 R, 1 BB, 8 K's, on 59 pitches; it was an extraordinary scene, no doubt.
Turning to the offensive side of the ball, Southern Miss really, really struggled. Only mustering up one hit for the first six innings. Berry said he was not concerned with hitting since they are only two games in.
"I think it's going to take time to just continue to work and they're gonna get confidence obviously, winning breeds that. I thought we had better at bats tonight then last night." Berry said.
Danny Lynch got Southern Miss their first hit in the bottom of the third. He was caught stealing on the next pitch. After that, USM could not get a hit off Liberty's Left-handed starter Nick Morgan. After Morgan was done, USM was able to get their offense working.
Carson Paetow led off with a walk in the bottom of the seventh. After stealing the second, Tate Parker would drive him in with an RBI single. Parker's first hit as a Golden Eagle and his first RBI to tie the game at 1-1.
Blake Johnson reached base on an error in the bottom of the eighth. Gabe Lacy batted him in with an RBI single to take the lead, eventually the game-winner. That was Lacy's first hit as a Golden Eagles
" It's a dream come true. After I got to first I was like, dang I guess that is the first one. It's good to get it out of the way." Lacy said.
It was not pretty for the second night in a row, but Southern Miss found a way to get it done and win the series on Saturday.
Game 3
Southern Miss baseball has swept the opening weekend after beating Liberty 7-2 in Sunday's game.
"Winning is hard, man, you got to do a lot of things well, and sometimes when you do that you don't win. But we created an opportunity today for ourselves over the past two games to do something special and that was to sweep a really quality opponent here and our guys didn't miss a beat. I think they were really locked in. Came out got the job done." Southern Miss head coach Scott Berry said.
The Golden Eagles have won every opening weekend series since 2015 and swept in eight of the past nine years. Liberty was the preseason favorite to win their respective conference, so definitely a formidable opponent that USM was able to sweep.
After a challenging first two games on the offensive side of the ball, Southern Miss was able to get their offense working with nine hits and seven runs. Dustin Dickerson started the day off with a double in the first inning, to which Carson Paetow scored him on a fielder's choice RBI to give USM a 1-0 lead.
Liberty responded in the top of the third, with Gray Betts coming up with an RBI single to tie the game up at one apiece. After that, it was all Southern Miss. In the bottom of the fifth, after a couple of walks, USM plated a run via a wild pitch. Afterward, Matthew Etzel doubled down the right field line, which plated another to bring the score to 3-1.
"The first two days, especially at the beginning of the season all of our hitters are a little jittery. Now we are able to get the hang of everything and hit balls more often. It's only going to go up from there." Etzel said.
In the sixth, Tate Parker scored on a wild pitch to give Southern Miss a 4-1 lead. However, most of the action happened in the bottom of the eighth inning, starting with a Parker home run to left field.
"Great young man. What you don't know about Tate is Tate's a father. He's a husband. He's a student. He's an athlete. So there's a lot of things that Tate has to be that nobody else does, that's surrounding him. So your tip your hat to that young man and what he's happened to do right now to play all of those roles and play them well." Berry said.
After Parker's home runs, Slade Wilks doubled, and Blake Johnson reached base on an error to which Danny Lynch doubled and brought in Wilks to bring the score to 6-1. Gabe Lacy flew out, but Etzel brought in another run after a sac fly to give USM a 7-1 lead.
Liberty knocked a home run out of the park in the top of the ninth, but that was all she wrote by that point as Justin Storm closed the game out for the Eagles.
If this weekend tells us anything, the future is bright for this bullpen and pitching staff this season. USM gave up just three runs, with two being unearned. Niko Mazza was USM's starting pitcher for this afternoon. He came in and threw for five innings and got the win. His final line: 5 Ip, 1 R, 2 BB, 6 K's on 75 TP. It was also his birthday today.
"Niko Mazza, you know what a great birthday he had today and picking up the win." Berry said.
Mazza might be a name Southern Miss fans are not used to hearing, but he will be a household name in the future.
"I felt really good out there. Liberty has got a great lineup. I'm just really glad I gave my team a chance to win.' Mazza said.
The bullpen continued to shine after Mazza's day was done, with JB Middleton coming in for USM. Middleton is a true freshman and pitched two innings and struck out four with no walks.
"Very encouraging to see JB Middleton do what he did. We've been seeing that so that's why there was no reservation for us handing him the ball at a young age for him to go in and do what he did." Berry said.
All in all, for Southern Miss pitching, they only allowed Liberty one extra-base hit through all three games, and it only happened in game three of the series in the ninth inning. That is pure domination on the mound, which is why they call pitching coach Christian Ostrander, "the wizard."
Southern Miss (3–0) is back in action Tuesday night against New Orleans at Pete Taylor Park. The first pitch is set for 6:00 PM.
Leave a Comment
Donate to Southern Miss Student Media Center
Your donation will support the student journalists of University of Southern Mississipi. Your contribution will allow us to purchase equipment and cover our annual website hosting costs.