No. 18 Southern Miss completely crushes New Orleans 12-0
HATTIESBURG, Ms – No. 18 Southern Miss demolishes New Orleans in the first-midweek game of the year 12-0. From beginning to end, the game was entirely controlled by the Golden Eagles, from pitching to hitting to defense.
"I'm just pleased. We dominated in all three phases. When we talk about pitching, defense, and offense, I think everything that you want showed up tonight.' Berry said.
Coming into the season, there were so many questions surrounding the pitching staff and the young arms pitching coach Christian Ostrander had to work with coming off last season. However, so far, it has been nothing short of exceptional. Tonight, Southern Miss held down the Privateers to just one hit.
Starting pitcher Billy Oldham threw a flawless line in his first start at Southern Miss. That is the most unexpected part of the pitching room so far this season. Ostrander is crafting each of these pitchers into stars, even when they are all still so young and inexperienced.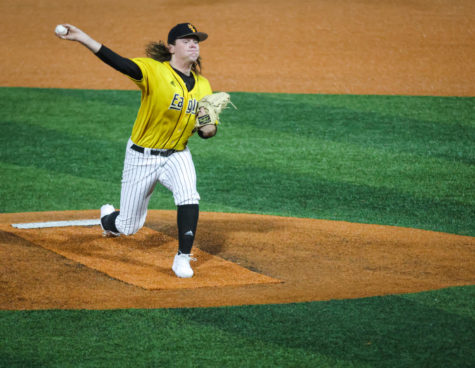 "Coach Oz is great. He talks a lot about mentality, and tempo. You know just getting on the mound and attacking and throwing strikes, that's what plays the best." Oldham said.
Oldham was indeed playing his best tonight. Going for five innings, not allowing a hit or run or walk. He threw 61 total pitches, 46 of which were strikes. So, in turn, only 15 balls were thrown tonight by Oldham.
"He had a great mix of his pictures. He was 91, with a pretty good changeup that made it probably appear faster than it was. I think the biggest thing I saw our of Billy was he didn't live at the belt, he really worked at the knees. That's what he's got to learn to do. That's where he's going to be most effective." Berry said.
Since the score was so lopsided when Oldham came out, fans got glimpses of a handful of other pitchers—including Isaiah Rhodes, Colby Allen, Lake Trahan, and Nick Monistere.
The Privateers did not have a baserunner until the top of the fourth, due to a strikeout wild pitch. The next baserunner they would have was in the top of the sixth—a completely dominating effort by the pitching staff.
From the start, the offense showed what it could do with a leadoff double by Matthew Etzel. It just started what would be a long night for New Orleans pitchers. Tate Parker drove in the first run with an RBI single, followed by Slade Wilks coming up with an RBI double to take a 2-0 lead after the first.
Parker appeared to injure himself in the first inning when he pulled around to third on Wilks's double. After the game, Berry said he was dealing with a "strained hamstring." Reece Ewing filled in for him and had an exceptional game.
However, the third inning is where the absolute beatdown started. Southern Miss batted around in the third inning and scored seven runs. Ewing scored two runs with a double. USM scored another with a walk while the bases were loaded. Then Etzel batted a run in with a sac fly. Dustin Dickerson batted a run in with a single. Carson Paetow rounded it out with a two RBI-triple.
All in all, seven runs in the third really opened up the game from that point on.
"We took advantage of some mistakes there. There were some wild pitches, but we also had some good swings. Paetow and Sarge stepped up." Berry said.
The Golden Eagles added a couple more runs in the fourth. Then Ewing batted in another run in the fifth to put the score at 12-0.
"I felt really good tonight. I'm always ready for my opportunities. It was great to be able to get out there." Ewing said.
Out of the nine on the starting lineup, eight had a hit. Truly a dominating effort in every facet of the game. When the team is pitching like this and hitting on this level, this team is so dangerous.
Southern Miss will take on Illinois this weekend for the next series.
Leave a Comment
Donate to Southern Miss Student Media Center
Your donation will support the student journalists of University of Southern Mississipi. Your contribution will allow us to purchase equipment and cover our annual website hosting costs.