Southern Miss continues to stay hot on Sunday, completes sweep of South Alabama
Southern Miss swept South Alabama to improve to 32-15, 17-7. Here are all three-game recaps:
Game 1
Southern Miss baseball is getting hot at the right time. Head Coach Scott Berry will tell you it started in the third game of the Coastal Carolina series. Tonight, they won their eighth game in a row downing South Alabama 6-4 behind stellar pitching from Tanner Hall and solid offense. 
"Something clicked at Coastal Carolina on that Sunday. Their attention was gotten, whether it was the meeting, whether it was giving up 35 runs to our 14 in the first two games. But that was the wakeup call, that was the punch in the mouth that sometimes you need." Berry said. 
The Golden Eagles are definitely clicking now. All phases of the game have been on point throughout the past eight games; it is hard to complain if you are a Golden Eagle fan. It is also tough to complain when you have an all-American ace on the mound in Tanner Hall doing what he has been doing over the past few weeks. 
Coming off a career-high 15-strikeout performance from last week, Hall again looked like his old self. South Alabama jumped out early on him in the first and second innings, getting three hits and two runs. However, Hall did not allow a hit after those innings until he was pulled in the eighth. 
"They came out swinging early so kind of felt like I had to step up a bit. At the beginning of the game, we weren't getting those runs like we needed to. Once we all got rolling, I had to keep pulling out shut down innings. And once we started hitting it, it made it really easy to go out there and keep rolling with that momentum." Hall said. 
Hall pitched a line of 8.0 IP, 3 H, 2 R, 2 BB, 9 K, 110 TP. Pitching like that with a team like the Jaguars up in the dish is truly a sight to see.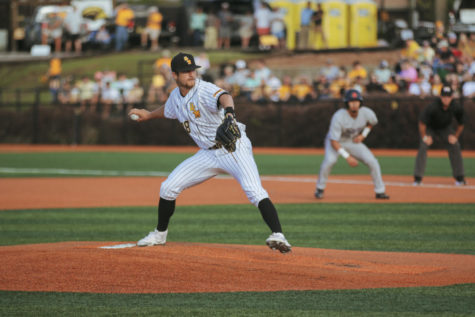 "There's a reason why Tanner Hall takes the ball on Friday night. You saw that tonight." Berry said. 
In the top of the first, South Alabama got two hits off three pitches from Hall, and it was second and third with no outs. Hall got out of that with just a sac-fly RBI to minimize the damage in what was sure to be a significant moment in the game. 
"I think the whole key to the game on the pitching side was his [Hall's] ability to minimize in that first inning. Runners second and third nobody out, that could have been a huge inning for them. But he got out of there with just a sacrifice fly." Berry said. 
Southern Miss came right back in the bottom of the second and got one of those runs back after Christopher Sargent extended his hitting streak to ten games with a leadoff double. Reece Ewing would get the scoring going for the Golden Eagles with an RBI single to bring the score to 2-1 after a second-inning home run by the Jaguars. 
Southern Miss would tie it up in the fifth with a Carson Paetow sac-fly to make the score two a piece. Southern Miss took the lead for good in the sixth inning when Danny Lynch knocked his sixth homer of the year with a 413-foot home run that traveled 104 MPH to give Southern Miss a 3-2 lead. 
"It felt good. I knew it was huge. It was a 2-2 ball game at that point and their starter was good and I knew we needed to get the lead. I was fired up." Lynch said. 
Lynch, a team captain, came through in a prominent spot like he has so many times in the past. 
"What a big swing that was. I knew right off the bat it was gone. Real proud of him. Defensively, he brings it every day. He's one of our captains. He's like the quarterback on defense, he keeps everybody where they are supposed to be." Berry said. 
Lynch's homer woke up the offense, and they scored three more runs after. One coming from Rodrigo Montenegro on an RBI single in that inning. Another is coming from a Slade Wilks RBI triple. Finally, Nick Monistere got an RBI with a sac fly in the seventh. 
South Alabama never went away, however. They loaded the bases in the ninth and brought the go-ahead run to the plate. But Justin Storm got the final strikeout to earn himself his seventh save. 
Southern Miss improves to 30-15, 15-7 in conference play. 
With Coastal Carolina falling 11-0 tonight against Appalachian State, Southern Miss is now tied for first in the standings. They control their own destiny from here on out. 
"I can't emphasize it enough. We do [control our own destiny], but we do it one game at a time. We can't get caught up in what everybody else is doing, we got to strive to play the best baseball we can. We got to strive to give ourselves a chance to win a baseball game by doing things right, and competing, and having the right attitude, and having a purpose for that attitude, those are the things that are challenging these guys to go out and play their best game." Berry said. 
Southern Miss goes for the series at 12 PM tomorrow.
Game 2
Southern Miss beat South Alabama 6-4 again to claim the weekend series. This win extends Southern Miss's streak of no home Sun Belt series losses. The Golden Eagles have won nine games in a row, which is the nation's highest right now. Everything is clicking, and the record and the RPI are rising.
Right-hander Billy Oldham Jr started on the bump for the Golden Eagles and delivered another solid outing. He earned the win, his fifth of the year, and pitched for a line of: 6.1 IP, 6 H, 3 R, 1 BB, 7 K's, and 98 TP.
Much like in Friday Night's game, South Alabama was able to jump out in front 2-0 early after getting a couple of hits off of Oldham. But he settled in and gave Southern Miss's offense a chance to get going there in the middle of the contest.
"I thought Billy Oldham was really outstanding. Especially after giving up the two runs in the first inning. He really settled in and really navigated through a tough lineup. Had a great mix of his pitches. He pitched off that changeup, which made his fastball that much faster than it was." Southern Miss head coach Scott Berry said.
After Oldham was pulled in the seventh, Will Armistead pitched. Armistead has come along this season for the Southern Miss bullpen and has become a key weapon. He has developed his slider, which he says he has learned from watching Angel's Shohei Ohtani on YouTube.
That strategy is on point because tonight, he pitched for two innings, gave up just one hit, and added four strikeouts.
"I feel like being thrown into every type of role can be an exciting opportunity to test yourself in different situations. I embrace it, I think it's fun to challenge myself and be playable for my team anytime they need me." Armistead said.
Like most of the bullpen, it took a while for Armistead to find his groove. But now that he has found it and has developed his pitches, he could be vital to a potential postseason run in June.
"He is really locked in. You can tell he is oblivious to anything around him. He is just zeroed in on that hitter in that zone. And he has tremendous confidence when he takes that mound and he's got great pitchability and it's showing." Berry said.
As for the offense, Southern Miss posted another double-digit hit game. After going down 2-0 early in the game, Nick Monistere got himself a double in the second, and Reece Ewing added an RBI to his column after coming up with a single. After, Danny Lynch singled, and Slade Wilks scored on an error charged to South Alabama to tie the game in the third at two.
Southern Miss took the lead in the third with a Monistere RBI single to go up 3-2. Monistere has been an unexpected main weapon for Southern Miss this season. He always gets a barrel on the ball and has good plate appearances.
"I just try to stay true to my approach and trust what I've done in the cage and what I've worked on in practice and get out here and play and have fun." Monistere said.
Monistere went 3-3 today with an RBI.
South Alabama tied the game in the fourth. But then, Wilks came to the plate and blasted a 418-foot, 112 MPH off-the-bat bomb to right field for his eighteenth home run of the year to give Southern Miss the lead for good.
"Slade hit a missile out of here. I think all of his home runs, I don't think there has been a cheap one all year. I mean when he hits it, it is scalded. Did another one of those today." Berry said.
Lynch followed Slade's homer with an RBI single of his own to make it 5-3. Then after a Jaguar run, Paetow added another RBI to his column with a sac-fly RBI.
Southern Miss improves to 31-15, 16-7 in conference play. They remain tied with Coastal Carolina for the No. 1 spot in the Sun Belt.
They go for the sweep tomorrow at 1 PM.
Game 3
It may be the team dressing their best, it might be that the game starts at one pm, or it may be the devotion before the game, but something clicks for Southern Miss on Sundays this season, and that stayed true today.
Southern Miss completed the sweep of South Alabama by winning by a score of 6-1, the easiest win of the series, and tied for the most hits and runs. This is the tenth win in a row now for Southern Miss and the second consecutive sweep. That is the longest winning streak in the country.
"I don't really know," Southern Miss head coach Scott Berry said when asked why the team is hot on Sundays. "I think we're playing well… I don't know what it is. I hope it's a sense of urgency that we've seen the last two Sundays to be able to get a sweep that's caused us to come out really on fire."
Over the past six Sundays, Southern Miss has played the best game out of the series in game three:
Troy Game 3: 13 runs, 15 hits (most runs of series)
Old Dominion Game 3: 11 runs, 14 hits (most runs of the series)
James Madison Game 3: 15 runs, 15 hits (most runs of series)
Coastal Carolina Game 3: 15 runs, 13 hits (most runs of series)
Arkansas State Game 3: 17 runs, 15 hits (most runs of the series)
South Alabama Game 3: 6 runs, 12 hits (ties most runs of series)
"I think when you win the first two, you're probably doing a lot of things right. Your probably getting into the other teams bullpen, and saving your bullpen. Tanner and Billy were able to save our bullpen this week….I think that's been a lot of it, going into Sunday our bullpen is pretty fresh because our starters are doing good." Danny Lynch said.
In both games, South Alabama jumped in front of the Golden Eagles 2-0 on Friday and Saturday. Today, Southern Miss returned the favor after Matthew Etzel led off with a walk, and Slade Wilks single moved him to third.
Christopher Sargent and Reece Ewing both came up with RBI singles in the first to give Southern Miss the 2-0 first-inning lead. They added two more runs in the third thanks to a Nick Monistere RBI single, and Carson Paetow tallied another RBI with a single in the same frame to go up 4-0.
They added another run in the bottom of the sixth with a balk called on South Alabama. Furthermore, in the seventh, Lynch knocked his seventh home run of the season.
"We had some good information that he was throwing a lot of sliders…so I was sitting on it. It was actually a decent pitch down and in, but since I knew it was coming I was able to hit it." Lynch said.
Southern Miss could not have won this game without the stellar pitching of Matthew Adams and Nikko Mazza.
Adams, still trying to work back from injury, pitched a stellar 3.1 IP, 1 H, 1 R, 3 BB, 5 K, and 62 TP. The one hit he allowed was the Jaguar's only run, a solo shot in the third.
"Awe man he looked really good with a really tight zone. He had to navigate through some pitches that didn't go his way. But he was able to minimize, and only give up one run in three in a third innings with one hit." Berry said.
But the momentum-shifting moment in the game was during Mazza's outing. He loaded the bases in back-to-back innings, and both times he got a strikeout to strand the bases loaded for the Jaguars.
"I really couldn't blame anybody else other than myself in that situation. So I had to get out of it." Mazza said.
Mazza pitched for a final line of 5.0 IP, 4 H, 3 BB, 9 K, 92 TP.
"I thought he was just phenomenal. South Alabama is a tough team to strikeout, today we had them on 15 strikeouts, and when you do that there is not a whole lot a defense. There's only 12 other outs we have to get." Berry said.
Southern Miss's record improves to 32-15, 17-7, and up to No. 23 in RPI.
They take on ULM in a weekend series starting on Friday.
Leave a Comment
Your donation will support the student journalists of University of Southern Mississipi. Your contribution will allow us to purchase equipment and cover our annual website hosting costs.